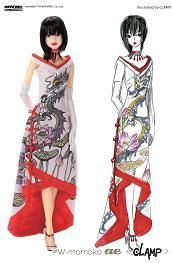 CLAMP-NET
has updated with a preview of the finished PW-momoko ae
doll which will be available for preorder August 24th for 28,000 yen at pwstore.ocnk.net. Delivery expected April-May 2013.
The doll will also be at an exhibit August 11 at the Tokyo Metropolitan Industrial Trade Center. More details on the exhibit here.
And the CLAMP Festival has added a third date and venue at Nagoya on December 2nd.