In a surprising collaboration announcement, CLAMP's original work, MOONSAGA 義経秘伝, will be brought to stage by GACKT.
GACKT is a successful singer and actor with numerous works to his name. Episode.0 is one of his recent music releases.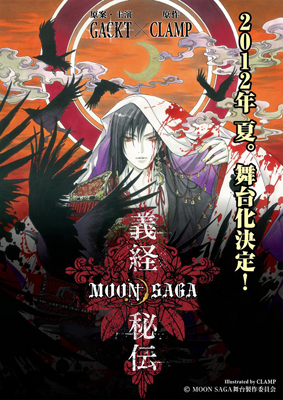 Title:
MOONSAGA
義経秘伝 (Yoshitsune Hiden)
What: Stage play
Starring/drafting: GACKT
Original Work: CLAMP
When: July 2012 (
Schedule online
)
Where: Tokyo, Nagoya, Osaka and Fukuoka
Ticket Price: 8000 yen and up.
[Credits:
MOONSAGA
,
DEARS
,
CLAMP-NET
]
ETA:
More information and CLAMP illustration from
Natalie.mu
.
A manga will run in a Kodansha magazine with other related projects to come.
"Gackt will play the title role of Minamoto no Yoshitsune, a general who was critical to the Genpei War that inspired the literary classic Heike Monogatari (Tale of the Heike)." [Credits:
ANN
]