CLAMP-NET
's beginning of August update:
Gotta get Newtype 9!!!
In this month's Newtype, there will be a few great CLAMP features:
CLAMP will be illustrating the cover of Newtype with BLOOD-C. Included will be an article featuring the birth of BLOOD-C including Nanase Ohkawa x Director Mizushima interview, and a feature on Nana Mizuki.
And in addition to the special Kobato. feature, there will be breaking news on a
BRAND-NEW
manga series. There will be some kind of promotional campaign involved.
Newtype 9 is on sale August 10th.
------------and the usual news------------
GATE 7
~ [JUMP SQ. - monthly chapters]
August 4: Chapter 6
September 4: Chapter 7 (color image included)
BLOOD-C
- [weekly anime]
September 28: BR/DVD Volume 1 (LE extra: CLAMP setting guide, video from the premiere)
October 26: BR/DVD Volume 2 (LE extra: OST 1, textless op/ed)
November 23: BR/DVD Volume 3
December 21: BR/DVD Volume 4
January 25: BR/DVD Volume 5
February 22: BR/DVD Volume 6
2012: movie
ETC.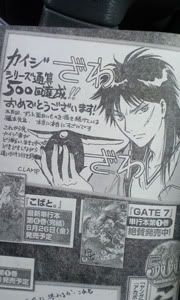 August 1:
In honor of Nobuyuki Fukumoto's 500th chapter of Kaiji, CLAMP has contributed an illustration and note in Young Magazine #35.
August 26:
Kobato. Volume 6
August 26:
Cardcaptor Sakura movies on Blu-ray
September 6:
xxxHolic Postcard Book
(will include illustrations from all 19 volumes)
September 24:
CLAMP FESTIVAL
September 26:
Kobato. Illustrations & Memories
October 26:
Tsubasa Chronicle DVD-BOX
November 26:
Tsubasa Chronicle Season 2 DVD-BOX
Date unknown: xxxHolic Artbook
Date unknown: Code Geass GAIDEN: Boukoku no Akito
(News from Otakon 2011 says the series is coming in 2012)