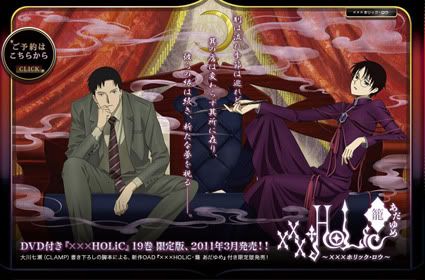 The former Tsubaholi
OAD website
has updated with a new splash and information about the upcoming OAD.
xxxHolic Volume 19 will be released on March 9th with the new OAD. The title is
xxxHOLiC ・Rou Adayume
. The title most likely coming from the previously released theme song from Suga Shikao. (See
prior post
for the opening PV). The staff is comprised of the same people from the previous OAD, and Nanase Ookawa is writing the screenplay. CLAMP will again be illustrating the case cover. There's also already a preorder page at
Amazon.jp
.
ETA: Besides the OAD update, CLAMP-NET has posted Nov 17th as the release date for the Peter Pan & Wendy book.
Also,
xxxholic-net
has updated with info about the 2nd box set and more eye-candy images on their special page. The 2nd box set comes out Oct. 27th.